Major tire manufacturer uses TTP-2410M printer to increase efficiency and meet EU regulations
Market: Tire industry
Application: Label printing for major tire manufacturer in Taiwan
Model: TTP-2410M thermal transfer label printer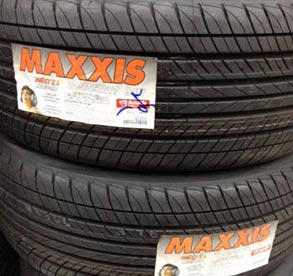 Situation: The production of tires is a complex process involving many fabrication steps and a variety of rubber compounds. Rubber compounds are first mixed and then moved to a bead-wire assembly station. The material is then transferred to an extrusion station, where the compounds are processed and later moved to another station to be cured in a press under heat and pressure.
New EU regulations, which go into effect in November 2012, require tire vendors to provide consumers with information about fuel efficiency, wet grip and noise class in all promotional materials and on a label attached to the tire itself. The regulations govern all light and heavy-duty tires (C1, C2 and C3).
Solution: The tire manufacturer selected TSCs high-speed TTP-2410M label printer to track materials during the assembly process. With its fast throughput, the TTP-2410M is ideally suited for Just-in-Time production. Operators are able to quickly print tracking labels that are then attached to each item so that it can be clearly identified during the assembly process. To meet the new EU regulations, a label that lists product specifications is printed and attached to each tire during the final stage of production.
Benefit: The TTP-2410M quickly and accurately prints and applies labels to tires on the production line, increasing the speed and efficiency of the manufacturing process while meeting the new EU tire-labeling requirements.
TTP-2410M Features: TSCs TTP-2410M die-cast aluminum label printer is designed to meet the most demanding bar-coding and identification requirements, offering more standard features than any comparable printer at a very affordable price.
The TTP-2410M boasts a print speed up to 12 ips the fastest in the TSC product lineup and the fastest throughput of any printer in its class. With its combination of speed and durability, the TTP-2410M is ideal for mission-critical printing applications either on-demand or batch.
TTP-2410M standard features include internal Ethernet, USB 2.0 and PS/2 keyboard connectivity, 32 MB SDRAM, 8 MB Flash memory, and an SD memory-card slot for inexpensively adding up to 4 GB of additional Flash storage. The TTP-2410M supports up to a 600-meter-long ribbon, along with a full 8.2-inch OD media roll. An optional peel-off kit includes an internal rewinder and a label peel-and-present sensor. The unit comes with a 2-year limited warranty.