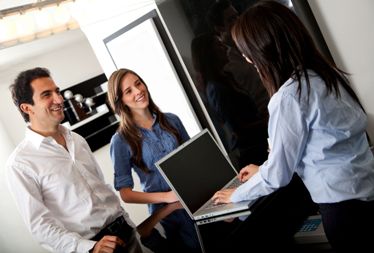 All ID Asia provides solutions and services to successfully manage data at your event. Our objective is to fulfill your business goals and create value for exhibitors, sponsors and attendees. We specialize in customized registration solutions, on-site support and supervision, software and hardware integration, NFC and cellular-enabled information exchange tools, lead retrieval and of course, results reporting.
We are committed to providing 100% of the deliverables with our products and services and we strive to ensure that your event results exceed expectations. We also continuously implement process improvements to create a unique experience.
Equipment resources
Our extensive inventory of on-site equipment includes NFC-enabled printer/encoders, badge readers, latest generation servers, laptop computers and the world s largest inventory of NFC enabled mobile phones. Our inventory of printers, computers and lead retrieval devices can accommodate any show size in the world.
Human resources
Ours is a team you can count on. Our Event Project Managers (EPM s) are highly trained and have extensive pre-event, onsite and post-event experience. Our programmers develop among the best pre-registration websites in the industry and have extensive on-site experience.
Our in-house operations team has developed outstanding processes and systems to manage all aspects of our event services. And last but not least, our executives understand the specifics of the event world and react quickly to find solutions to any situation. As your partner, we care about your event just as much as you do.
Pre-Show Project Management
Our comprehensive, turnkey support package features a dedicated Account Team assigned to your event. Each team includes an Event Project Manager, a Lead Programmer and an Executive. Each team has access to all internal services to ensure proper execution of the deliverables. Our teams handle technical and process consulting, design, development, testing and status reporting.
Pre-show project management includes data integration, supplies specification, procurement and delivery, milestone and staff scheduling, in-house credential production and mailing, registration call center support, financial transaction management and freight handling/shipping. Throughout the planning phase, our executive management team maintains personal oversight to ensure a thorough and satisfying customer experience.
NFC cell phones can actually perform double duty as both a data collection device AND an event badge.
Today, at events that we organise, NFC cell phones serve as handheld data capture devices. When a credential touches the NFC cell phone reader, data wirelessly transmits from the badge into the phone. An on-screen application is then launched with easy to use graphic interface, and upon completion of the data enhancement process, the data wirelessly uploads to a secure website where users can view and download data in real time.
Tomorrow, the installed base of NFC cell phone owners will become massive. The new generation of NFC cell phones will soon replace the current cell phone base. When this happens, everyone s NFC phone will have the ability to both accept wireless data AND EXCHANGE data with a simple touch via the NFC interface.
Very soon, your cell phone will transform into an electronic briefcase, and literally, your phone will become your universal trade show badge! As such, your NFC enabled cell phone, used at tradeshows or events serviced by All ID, will interact with any other NFC cell phone (as an information exchange device) or any NFC tag embedded in displays or carried by attendees.
Attendee Pre-registration
Accessed by login through supplied URLs accessible on the Client s website or other promotional venues.
User name and password creation based on email to prevent duplicates
Choice of paid, complimentary (via coupon code or allocation), or no-charge records
Automated lookup for special pricing including association membership status
Registration upgrade capability via email campaign
Filtering and error checking routines incorporated
Email Confirmation
Automated, customized email confirmation to users that pre-register on the website. As an option, confirmation can be sent via text messaging to cell phones.
Fast Track Check-In
Optional service embeds a 1D barcode in email confirmations. Attendees who print and hand carry their email confirmations to the event benefit from faster on-site processing.
Exhibitor Pre-registration
Accessed by login through supplied URLs to exhibitor coordinator staff for managed registration or open URL for individual exhibitor self registration. As part of the exhibitor portal setup for each exhibiting company, an online tool to upload lists of booth staff and/or lists of clients directly into the registration system is provided. Full management of allocation setup by show management for booth staff and other allocated registration packages is implemented.
Badge mailing services
For clients who prefer pre-show badge distribution, credentials can be produced and mailed based on data contained in the pre-registration and update databases. A manual quality control process is implemented during processing.
Onsite Servers – Data Integration:
When we handle pre-registration, the pre-registration is kept open throughout the event and it creates an automated synchronization with the onsite database on its servers securely connected to the internet.
Self Registration Stations:
User-friendly stations and software enable pre-registered attendees and exhibitors to check-in, and enable walk-in attendees and exhibitors to initiate a new registration. Self-registration simplifies registration and cuts costs by reducing staff. Self registration stations can be equipped with credit card readers and will allow for a registration to be completed at the station without any need to interface with a cashier. Self registration also allows for sponsorship information to be displayed.
Fast Track Check-In:
Speeds experience on-site for attendees who print and carry their pre-show email confirmation containing their 1D barcode identifier. When the barcode is scanned at the registration station, the users record is immediately retrieved and badge printing is expedited.
Manned Registration – Customer Assistance
As part of an onsite deployment, we will install stations with software setup with administrative login. These stations are used by trained temporary staff (we do the training!) to handle changes to a registration content, re-print badges, process upgrades, record special payments by cash or checks, etc.
Badge Printing Stations:
Include on-site badge printing hardware, software and supervision. Each printer is provided with an input hopper that holds stacks of cards that automatically feed into the machine. Each printer is also equipped with a RFID encoder that requires no mechanical parts thus creating a highly reliable process for onsite badge production. Badge printing stations can be setup in separate areas like Exhibitor Batch Print to handle needs for pre-printing of multiple badges.
Equipment and Management
We provide and install servers, workstations, self-service workstations, printer/encoders, handheld devices and the support staffing level you require.
Our extensive hardware inventory enables us to fulfill any equipment need, even the world s largest events. Our trained technical staff supports the onsite network, hardware configurations and software tools to ensure on-going operations. We guarantee continuous operations of our onsite installation. As part of our onsite management, our staff trains the temporary personnel on all aspect of the systems.